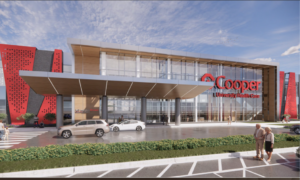 Continuing to expand their footprint
within the South Jersey region,
Cooper University Hospital engaged
our team to assist in managing
the complete gut renovation of
an existing Sears anchor store at
Moorestown Mall.
When complete, this project will be
transformed into a multi-specialty
ambulatory care facility. The facility
will include 5 specialty clinics with
over 100 exam rooms, community
lab, cardio-pulmonary diagnostics,
physical therapy, speech therapy,
occupational therapy, radiology with
MRI and CT, surgery center with 7
ORs and 1 endo/bronch operatory,
central sterile processing and an
infusion center.